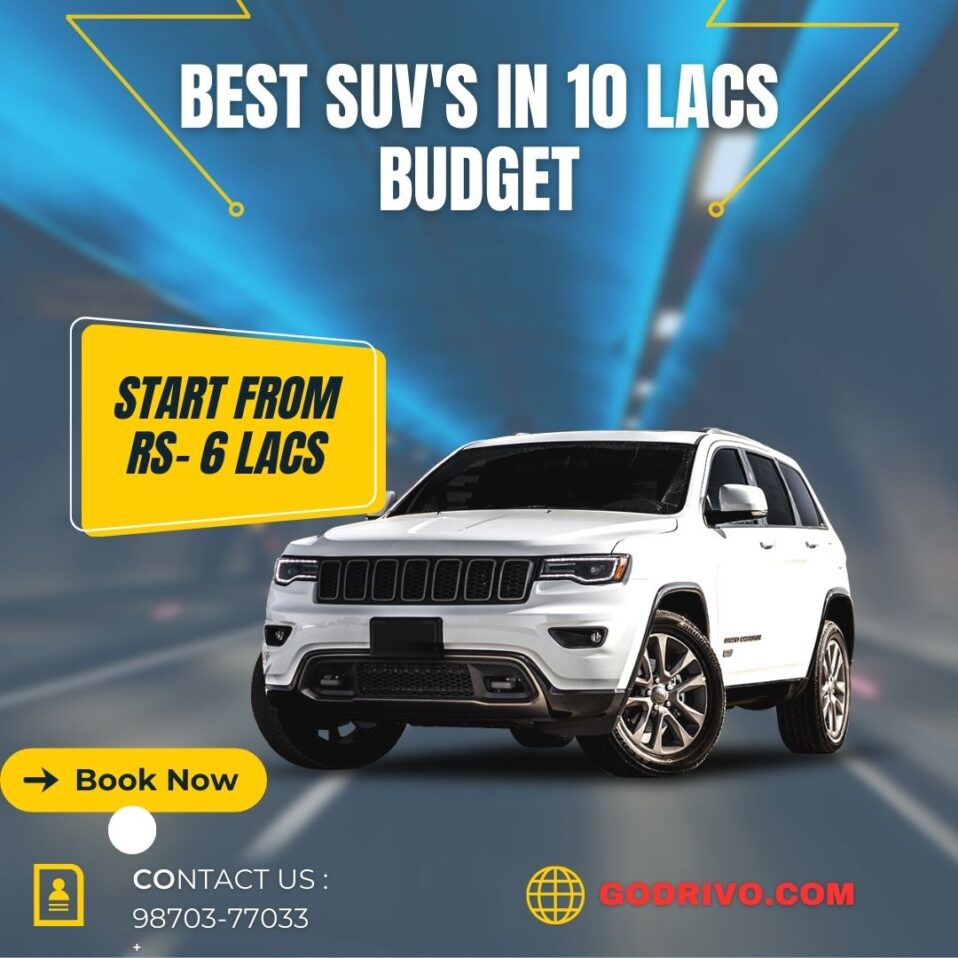 There are several great options that offer style, performance, and value for money if you're looking for a sport utility vehicle (SUV) in India and have a budget of 10 lakhs or less. We'll examine the top SUVs available in India for less than ten lakh rupees in this article to aid in your decision-making. So let's get started and choose the ideal SUV for you.
Introduction
Due to its roominess, adaptability, and imposing presence on the road, SUVs have greatly increased in popularity in India. Technology advances and more competition have led to the introduction of low-cost SUV models that meet the needs and preferences of purchasers on a tighter budget. Let's look at some of the greatest SUVs under 10 lakhs that are available in India.
Hyundai Venue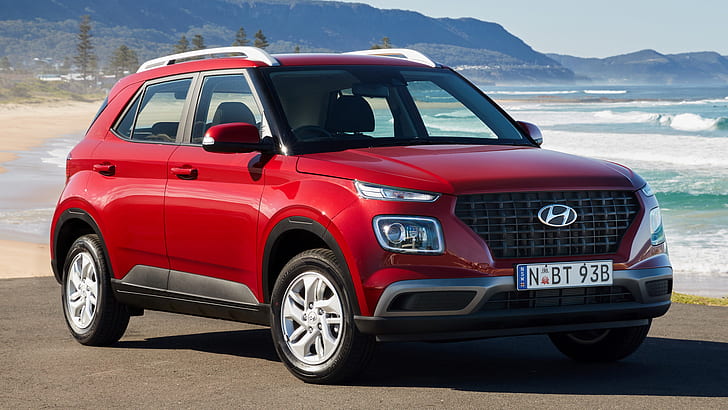 A compact SUV with the ideal balance of design, comfort, and performance is the Hyundai Venue. The Venue has gained popularity among Indian purchasers thanks to its contemporary style, feature-packed cabin, economical engines (Engine Cubic Capacity: 998 to 1493 cc), more power for diesel motors, additional safety equipment, and BS6 2.0 compliance. For those looking for an exhilarating driving experience, it provides a variety of engine options, including gasoline, diesel, and even a turbocharged gasoline engine. Hyundai Venue's price ranges from Rs. 7.72 Lakh to Rs. 13.18 Lakh. Hyundai Venue is available in 16 variations, with the Hyundai Venue E being the entry-level model and the Hyundai Venue SX Opt Turbo DCT DT being the most expensive.
Hyundai Venue Price Starts From Rs.- 772000 /- To 1318000 /- (Its Ex-Showroom Price)
Tata Nexon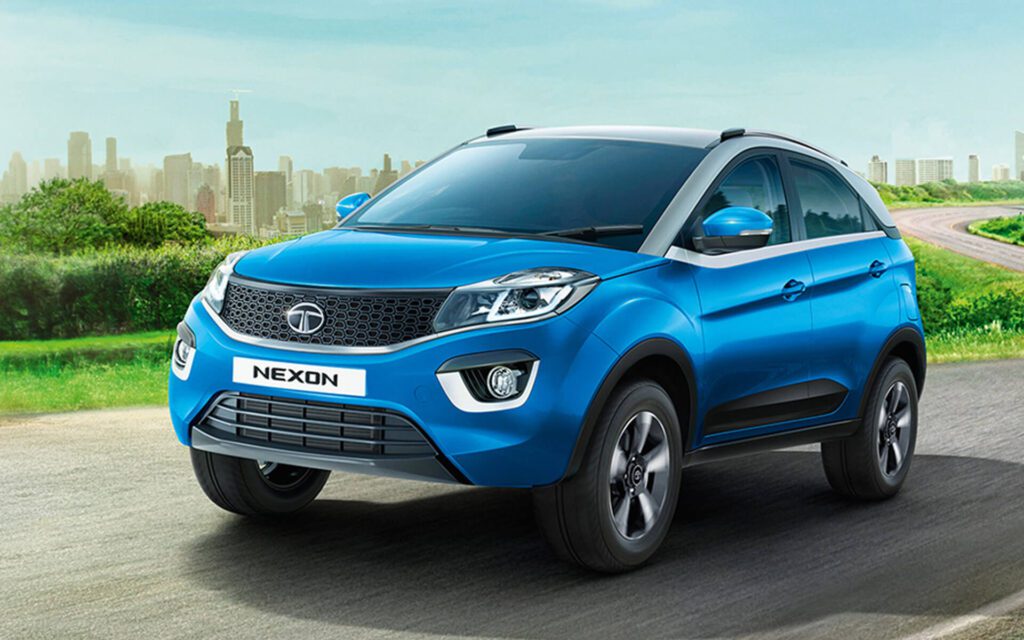 Another attractive SUV in the sub-10 lakh pricing category is the Tata Nexon. The Tata Nexon is a small SUV with an appealing combination of features, performance, and elegance. The Nexon has been more well-liked in the cutthroat SUV market because of its cutting-edge styling, dependable construction, and selection of engines. The Nexon offers a solid balance between performance and fuel efficiency and is available with both petrol and diesel engine options. Additionally, Tata's renowned build quality and after-sales support are included.
Tata Nexon Price Starts From Rs.- 780000 /- To 1450000 /- (Its Ex-Showroom Price)
Maruti Suzuki Vitara Brezza
Maruti Suzuki, a reputable name in the Indian auto industry, offers the Vitara Brezza as an affordable SUV option. The new Brezza has a very stylish look and design comfortable cabin and a reliable engine. It gives very good mileage because it has a hybrid engine of 1.5L petrol it gives around 17-18 km in the city and 22-23 km on the highway. It just has a gasoline engine, which provides adequate power and fuel efficiency. The Vitara Brezza is a desirable option due to Maruti's wide service network and affordable maintenance expenses.
Maruti Suzuki Vitara Brezza Price Starts From Rs.- 784000 /- To 1149000 /- (Its Ex-Showroom Price)
Kia Sonet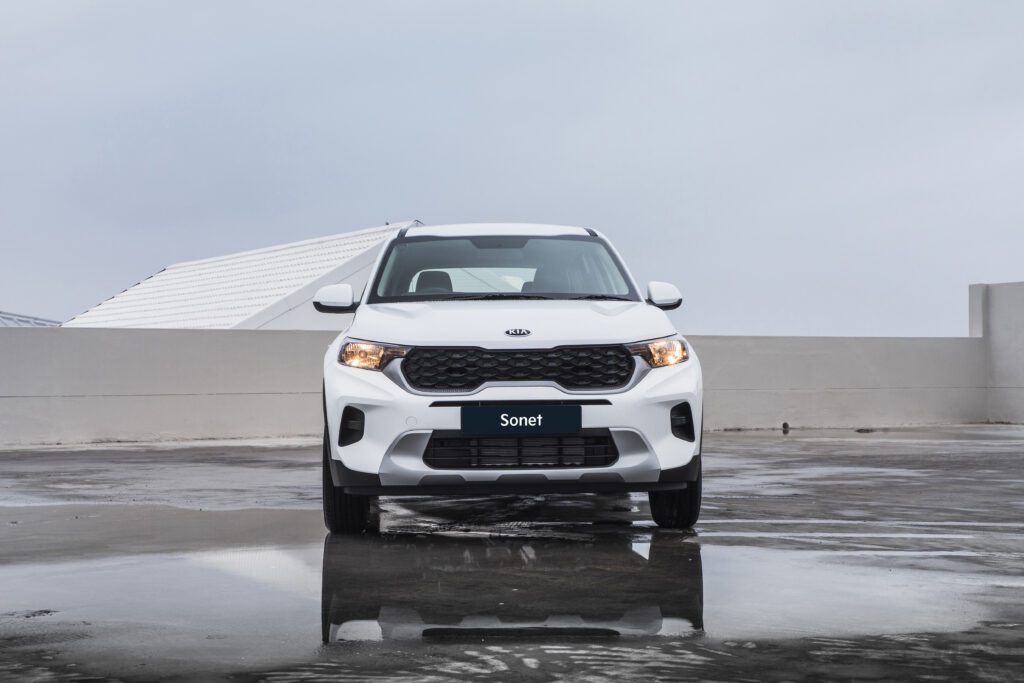 The third and possibly most significant vehicle from Kia Motors India is the Kia Sonet. It joins the very competitive compact SUV market. The Kia Sonet has had a significant influence on the Indian SUV industry because of its eye-catching design and robust equipment set. It has a variety of available engines, including gasoline, diesel, and even a turbocharged gasoline engine. The Sonet diesel automatic is the preferred powertrain thanks to its potent, refined 1.5-liter diesel engine and its incredibly smooth, 6-speed torque-converter automatic transmission. The Sonet is a fierce competitor in its market thanks to its roomy inside, high-end equipment, and superb build quality.
Kia Sonet Price Starts From Rs.- 779000 /- To 1489000 /- (Its Ex-Showroom Price)
Mahindra XUV300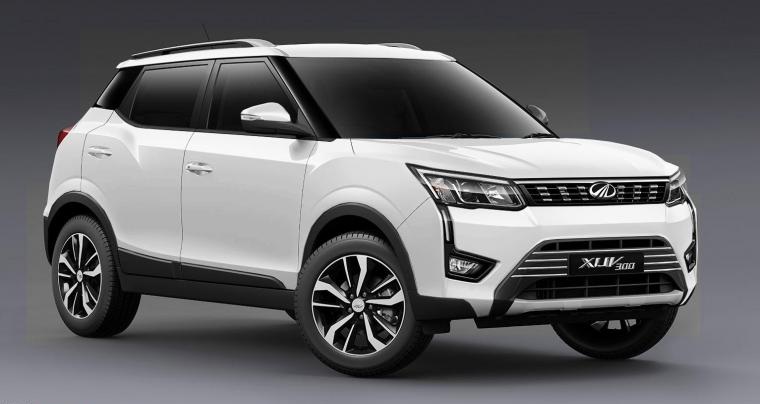 Mahindra's high-end sub-four-meter compact SUV is called the XUV300. It is a condensed and redesigned version of the Tivoli, a body-on-frame vehicle produced by Mahindra subsidiary SsangYong, and is very different from vehicles like the TUV300. The Mahindra XUV300 is distinguished by its strong, muscular look as well as its roomy, well-appointed interior. It provides a selection of engines, including diesel and petrol models, both of which give laudable performance and fuel efficiency. The XUV300 is an attractive choice for individuals looking for a safe and useful SUV because it also includes a number of safety features.
Mahindra XUV300 Price Starts From Rs.- 842000 /- To 1460000 /- (Its Ex-Showroom Price)
Renault Kiger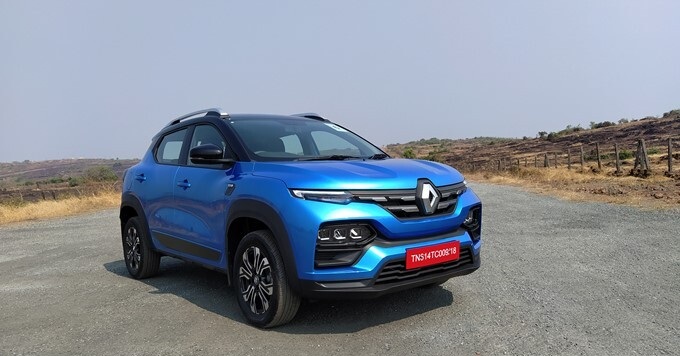 With the Kiger, Renault joined the sub-10 lakh SUV market, and consumers embraced it. The Renault Kiger has a modern and fashionable appearance distinguished by its strong line and muscular body. The Kiger gives a comfortable ride in addition to a respectable performance ideal for city driving with enough power and good fuel efficiency. It is offered with petrol engines, one of which comes turbocharged for improved performance. Kiger offers value for money because of its affordable prices and appealing warranty plan.
Renault Kiger Price Starts From Rs.- 650000 /- To 1123000 /- (Its Ex-Showroom Price)
Nissan Magnite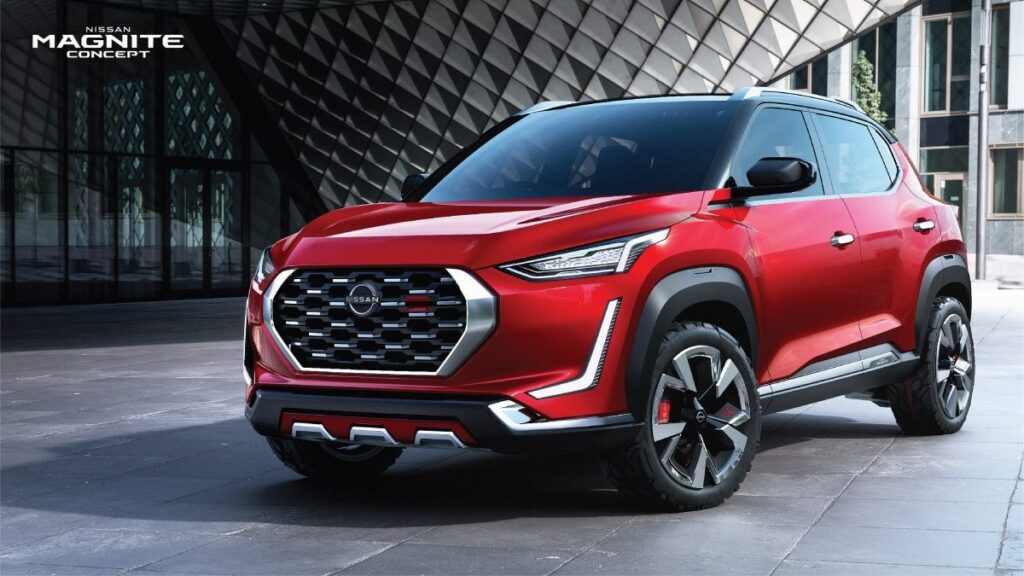 The Nissan Magnite is a highly affordable vehicle. Beautiful appearance, excellent styling, and a cozy interior. The engine has a minor power deficit. Excellent air conditioner. It's comfortable. Excellent product for middle-class Indian consumers. It offers a variety of gasoline engine choices that strike an excellent mix between power and effectiveness. Families can use the Magnite since it has enough room for both passengers and their stuff.
Nissan Magnite Price Starts From Rs.- 600000 /- To 1102000 /- (Its Ex-Showroom Price)
Tata Punch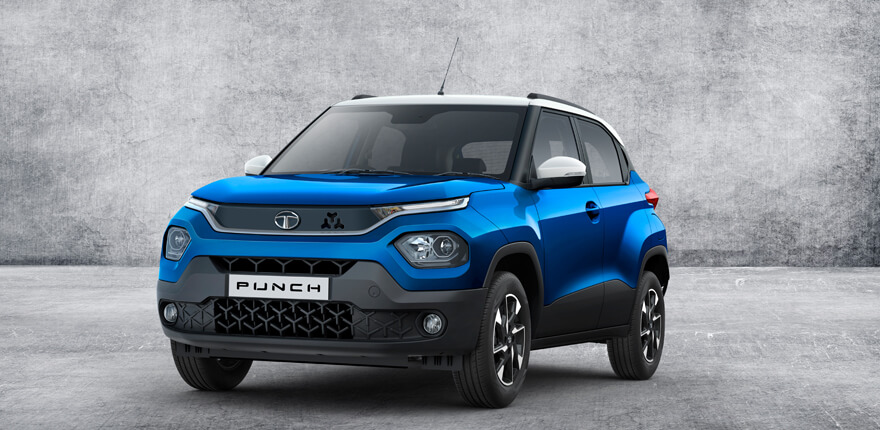 In this category, the Tata Punch comes highly rated. It is a fantastic family vehicle for three to four people because of its powerful engine, smooth driving, and comfortable seating. Adds to its appeal is its contemporary appearance. It can easily handle a variety of road conditions because of its high ground clearance. The overall driving experience is further improved by its good mileage and pickup.
Tata Punch Price Starts From Rs.- 600000/- to 952000/- (Its Ex-Shoroom Price)
Citroen C3
The Citroen C3 stands out from other cars in its class thanks to its powerful engine and stylish design, which make it a mini-SUV. The interior design of cars is also highly distinctive and appealing. The average automobile engine is 1199c. Long-distance travel is also made possible by car mileage. Along with passenger airbags, the company also sells driving airbags. The car's safety features are excellent overall. We are given smoothly by the car's power steering and precise braking system. Overall, the materials used to make cars are of quite high quality. For budget-conscious middle-class families, this automobile is the best option. It's a reliable and cozy car.
Citroen C3 Price Starts From Rs.- 616000 /- To 892000 /- ( Its Ex-Showroom Price)
Maruti Fronx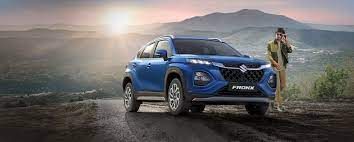 The Fronx is an SUV and crossover offered by Maruti, and it naturally has all the sexy aesthetic elements necessary to justify its placement below the Jimny and the Brezza. Let's examine the placement of the new Fronx in more detail. Styles with muscles draw attention. Despite being built on the Baleno, it has a baby SUV's delightfully unique appearance. powerful engines drivetrains with sufficient power and passable drivability, The Maruti FRONX has a starting price of 7.46 lakhs and a maximum price of 13.13 lakhs. The Maruti FRONX is available in 12 versions, with the Sigma model serving as the entry-level model and the Maruti FRONX Alpha Turbo DT AT, which has a starting price of Rs. 13.13 lakh, as the top variant. Service – Maruti Suzuki cars are backed-up by the brand's exhaustive and robust network
Maruti Fronx Price Starts From Rs .- 746000 /- To 1313000 / – ( Its Ex-Showroom Price)
Mahindra Bolero Neo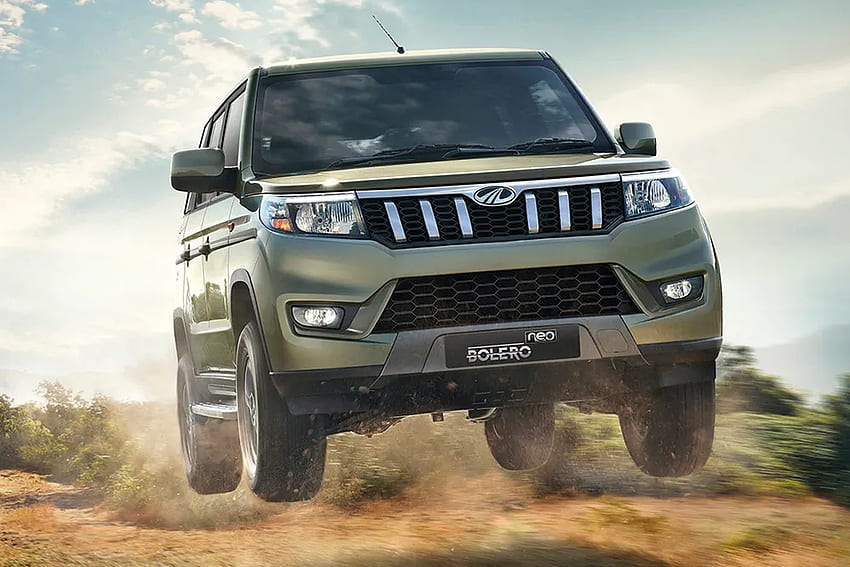 Compact SUVs like the Mahendra Bolero come with a selection of 1493 cc Diesel engines. Excellent SUV with low maintenance costs in the diesel class. Excellent vehicle for a large family; cheap maintenance costs and appropriate off-road tire size. For the Indian market, it is intended to provide a balance of toughness, usability, and cost.
Mahindra Bolero Neo  Price Starts From Rs.-  948000 /-  To   1214000 /-  ( Its Ex-Showroom Price)
Conclusion
There are a variety of SUV choices in India that fall under the sub-10 lakh price range. The Hyundai Venue, Tata Nexon, Maruti Suzuki Vitara Brezza, Kia Sonet, Mahindra XUV300, Renault Kiger, and Nissan Magnite are a few of the top SUVs on the market. Each model comes with a unique set of attributes, functionalities, and financial value. Consider your preferences, budget, and requirements while choosing the best SUV for your needs.
FAQs
Q: Are these SUVs available in both petrol and diesel variants?
A: Yes, most of the SUVs mentioned in this article are available with both petrol and diesel engine options.
Q: Which SUV offers the best mileage in this price range?
A: The Tata Nexon and Maruti Suzuki Vitara Brezza are known for their fuel efficiency in the sub-10 lakh price range.
Q: Do these SUVs come with automatic transmission options?
A: Yes, many of the SUVs mentioned here offer automatic transmission variants for added convenience.
Q: Are these SUVs suitable for off-roading?
A: While these SUVs are not designed specifically for hardcore off-roading, they offer sufficient ground clearance and capabilities for light off-roading adventures.
Q: How do I book a test drive for these SUVs?
A: You can visit the official websites of the respective automakers or contact their authorized dealerships to book a test drive for any of these SUVs.
We looked at the top SUVs under ten lakhs in India in this article. These SUVs, which range from the Hyundai Venue and Tata Nexon to the Maruti Suzuki Vitara Brezza and Kia Sonet, offer a blend of good looks, good performance, and good value. Choose the ideal SUV for your needs by taking into account your tastes and demands. Happy auto shopping!
You can find the Best Used SUVs in your budget https://www.godrivo.com/buy-car/